Novak Djokovic described his dramatic Wimbledon win over Roger Federer as the "most special" of his career after it ended his losing run in finals.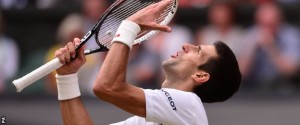 The Serb, 27, won 6-7 (7-9) 6-4 7-6 (7-4) 5-7 6-4 after missing a championship point and letting a 5-2 lead slip in the fourth set.
By winning the fifth set, Djokovic ended a run of three straight defeats – and five out of six – in major finals.
"It's the most special Grand Slam final I've played," he said.
"At this time of my career for this Grand Slam trophy to arrive is crucial, especially after losing several Grand Slam finals in a row.
"I started doubting a little bit. I needed this win a lot. I'm going to try to use it in the best possible way and for my confidence to grow for the rest of my season and the rest of my career."