Brazil coach Luiz Felipe Scolari has resigned, the country's football federation (CBF) has confirmed.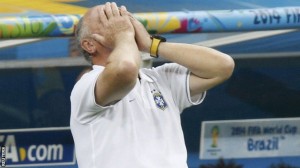 Scolari, 65, won the tournament in 2002 but the hosts could only finish fourth at this year's event.
Brazil were thrashed 7-1 by Germany in the semi-finals then lost 3-0 to the Netherlands in the play-off.
"Luiz Felipe Scolari and his fellow coaching staff surrendered their positions to the board," the CBF said in a statement.
"Scolari and his entire coaching staff deserve our respect and gratitude. They were responsible for returning to the Brazilian people your love for the national team, despite not having achieved our greatest goal."