Patrice Evra has completed a £1.2m move to Juventus from Manchester United.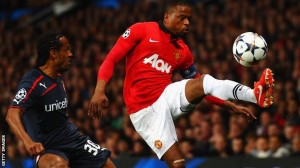 The France left-back, 33, has signed a two-year contract with the Italian champions, ending his eight-and-a-half-year stint at Old Trafford.
"Playing for Manchester United has been a privilege, a dream come true, and my time there has been so memorable," he said.
Evra joined United in January 2006 from Monaco for £5.5m and won five Premier League titles.
He signed a one-year extension to his contract in May but asked to leave when Juventus approached United over his availability.
Evra would have been competing for a starting berth next season against £27m signing Luke Shaw.
"After a great deal of thought I have decided the time is right for me to leave," Evra said.
"It is the biggest decision of my career as this club is, and will always remain, in my heart."