Pastor Maldonado topped another session in Barcelona as McLaren was hampered once again by an MGU-K problem which has limited its running all week.
McLaren hoped it had fixed the faulty seal which had ended its running early on Thursday and limited Fernando Alonso on Friday, but an early stoppage for Button suggested all was not well in the morning. The team confirmed in the late afternoon a recurring issue with the MGU-K seal had been discovered again. The issue means McLaren has completed 109 laps in three days in Barcelona but says a re-engineered seal is scheduled to arrive in time for tomorrow's final day, when Alonso returns to the cockpit.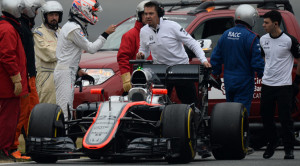 Maldonado, who finished first on Thursday, topped the session with a 1:24.328, a time set on the super soft tyre. He also broke a century of laps as Lotus once again showed it is adapting well to life with Mercedes power. The factory Mercedes also broke that milestone, with Hamilton driving despite still feeling the effects of the illness which saw him end testing early on Thursday. The world champion completed 101 laps and will hand the car back to Nico Rosberg tomorrow. Max Verstappen finished the day second on the timing screens and leading the lap count with 129, but his day ended in frustrating fashion when he pulled over at the end of the pit exit, bringing out the day's final red flag.
Ferrari found itself lower on the timesheets than the Tifosi have become accustomed to this winter but headline times are still of limited significance. Sebastian Vettel did not have an ideal start, sliding off just four corners into his first lap due to cold tyres. But the four-time world champion sustained no damage to his car and went on to finish the day with 105 laps, which included an impressive stint on the medium tyre where he lapped consistently in the high 1:28 mark, though fuel loads are unknown.
Daniil Kvyat started a disrupted full race simulation in the afternoon, which included a surprisingly short stint on the soft tyre and a lengthy stoppage at mid-distance. However, the Russian finished the day with 111 laps to his name. Sauber had a gearbox issue in the morning and Marcus Ericsson did not leave the garage until the final minutes before lunch. In the afternoon he saw much more of the track and finished with a tally of 53 laps. Pascal Wehrlein continued to gain F1 experience with 81 laps for Force India, who will hand Nico Hulkenberg the reigns tomorrow. Williams switched its drivers at midday, with Felipe Massa finishing with 55 laps and Valtteri Bottas spending the afternoon focused on pit stops and did not set an official time until four minutes from the end of the session.
Final times:
1. Pastor Maldonado – Lotus – 1:24.348 – 104 laps
2. Max Verstappen – Toro Rosso – 1:24.739 – 129 laps
3. Lewis Hamilton – Mercedes – 1:26.076 – 101 laps
4. Marcus Ericsson – Sauber – 126.340 – 53 laps
5. Sebastian Vettel – Ferrari – 1:26.407 – 105 laps
6. Daniil Kvyat – Red Bull – 1:26.589 – 111 laps
7. Felipe Massa – Williams – 1:26.912 – 55 laps
8. Pascal Wehrlein – Force India – 1:27.699 – 81 laps
9. Valtteri Bottas – Williams – 1:27.556 – 48 laps
10. Jenson Button – McLaren – 1:29.151 – 24 laps