David Rudisha stays humble after Nijel Amos storms to 800m gold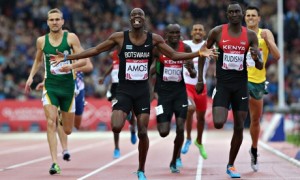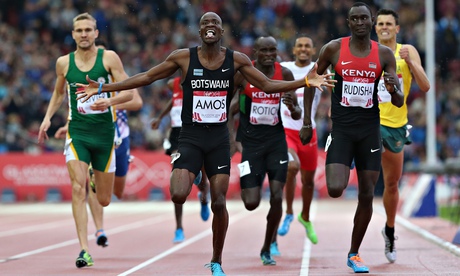 There have been many fine athletes at these Commonwealth Games, and many fine races too. But nothing like this: the two best 800m athletes of their generation thrashing it out in the final straight, the outcome in doubt until the last metres when Botswana's Nijel Amos finally downed the Olympic and world record holder, David Rudisha. No wonder the Hampden roar lingered.
But defeat did not diminish Rudisha. Quite the opposite. He hugged Amos, and told him "Well done my brother" before going on a lap of honour with his Kenyan team-mates. If there was disappointment, it was well disguised, smiling at the crowd as he received a standing ovation.
There were echoes of a swollen Muhammad Ali after his first professional defeat to Joe Frazier, winking at the hundreds of fans that had converged on his hotel, determined to show light on his darkest day. The bruises last night were to Rudisha's record not his face. But like Ali he will be back.
"It wasn't so bad," he insisted. "I am happy to have done and achieved that despite the fact that I would have wished to do better and maybe win the gold medal. Nijel is a tough competitor and he was good tonight. But we really love this place and it has been a great championships – the crowd were fantastic."