Germany beat Argentina to win World Cup final with late Mario G¶tze goal.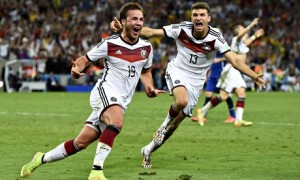 When the goal finally arrived, 112 minutes into a long, wearing night, there were members of Germany's entourage who seemed intent on re-enacting the infamous end to the Ryder Cup at Brookline in 1999. Their victory run, en masse, took them all the way from the dugout to the opposite side of the pitch where Andr© Sch¼rrle had set up Mario G¶tze for the decisive moment.
G¶tze had taken down Sch¼rrle's cross on his chest with his first touch. His second was to arrow a left-foot volley into the net and that ensured Germany will always remember Rio de Janeiro with the same fondness as Bern in 1954, Munich in 1974 and Rome in 1990.
They are worthy champions, even if they could not play with the distinction that made their semi-final such a harrowing ordeal for Brazil, and it was a wonderful goal that ensured their name was engraved into the trophy for a fourth time. It is the culmination of a story that should be an inspiration to others, bringing together intelligent forward thinking and all those other established German qualities, and G¶tze is an apt match-winner as one of the new generation of players to come off the conveyor belt.