Danish-born Kiwi Linda Villumsen dug deep in the final stages to pip Emma Pooley to win time-trial gold in Glasgow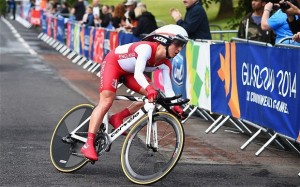 It was not the gold she was hoping for but Emma Pooley said she was "thrilled" to have bowed out of her final competitive time trial with silver at the Commonwealth Games, paying tribute afterwards to those who have supported her through a career in which she was a consistent force both on and off the bike.
The 31-year-old, who retires after Sunday's road race to focus on triathlons and other endurance events, was pipped, agonisingly, by New Zealand's Danish-born rider Linda Villumsen on a damp Glasgow course. Australia's Katrin Garfoot took the bronze.
Villumsen was nine seconds behind Pooley at the final time check but managed to finish six seconds ahead. The Englishwoman, though, said she had no regrets.
"You can't be frustrated when you have done your best," she shrugged. "Linda deserves the credit for a fantastic race. I'm not upset. I'm thrilled to have a medal."