Mercedes continued its domination of free practice at the season-opening Australian Grand Prix as several of its rivals ran into trouble in the second practice session.
Once more Nico Rosberg led team-mate Lewis Hamilton, managing to inch the gap up to 0.100s as they both used the soft tyres for the first time this weekend. Ferrari's Sebastian Vettel came closest to Mercedes with a time 0.715s off Rosberg and was the only driver within a second of the defending world champions. Kimi Raikkonen was fourth fastest in the second Ferrari, 1.145s off the fastest time, but complained about an issue on the car later in the session.
Raikkonen's issues were nothing compared to rivals Williams and Red Bull, however, which both had a car miss the entire session due to an engine change. Daniel Ricciardo was ruled out before the start by Red Bull and Williams soon confirmed Massa would not take part due to a water leak on its Mercedes power unit.
That left Daniil Kvyat and Valtteri Bottas to represent Red Bull and Williams respectively and Bottas managed a time 1.145s off the pace while Kvyat was 2.319s shy. Kvayt was less than a tenth of a second quicker than Carlos Sainz in the Toro Rosso, as the Spanish rookie put in another impressive performance. The Lotus drivers of Pastor Maldonado and Romain Grosjean were also both in the top ten ahead of an improved time for Force India's Nico Hulkenberg.
McLaren's weekend took another hit just 15 minutes into the session when Kevin Magnussen crashed at Turn 6. Magnussen managed just four laps before he lost the rear of the car under braking, missed the apex and then struggled to get it slowed down in the gravel, making contact with the tyre barrier on the outside of the corner.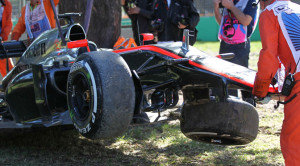 He walked away from the crash uninjured, but the location of the accident meant the car could not be returned to the garage to fix damage to its front-left suspension and front wing. Jenson Button managed to salvage 21 laps from the session, which will provide the team with useful data, but the car was still 3.690s off the pace of the Mercedes and 13th overall.
Sauber hit the track for the first time this weekend as it continues to fight in court with Giedo van der Garde. Felipe Nasr managed 32 laps and the 11th fastest time, but Marcus Ericsson suffered a left-rear suspension failure after 14 laps, bringing his session to an early end.
For the second session in a row, Manor did not take part as the team works through a number of software issues to get the car fired up. The team has less than 24 hours to get the car ready for qualifying, otherwise it will not be able to race this weekend.