Fifa has rejected Uruguay and Liverpool striker Luis Suarez's appeal against a four-month ban from all football-related activities for biting Italy's Giorgio Chiellini.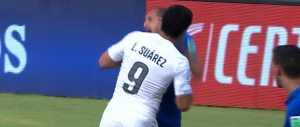 Suarez was also banned for nine international matches after the incident at the World Cup in Brazil.
The Uruguayan FA had described Fifa's ruling as an "excessive decision" for which "there was not enough evidence".
Suarez can now make a further appeal to the Court of Arbitration for Sport.
Football's global governing body also imposed a fine of 100,000 Swiss Francs (£65,000) on Suarez, who has apologised for his behaviour.
Under the terms of the suspension, Suarez cannot train with his club and is prohibited from entering the confines of any stadium, although players' union Fifpro argue the details "lack clarity".