Martin Whitmarsh appointed new CEO of Ben Ainslie Racing as former McLaren stalwart aims to win America's Cup
Martin Whitmarsh, the former McLaren team principal and chief executive of The McLaren Group, was announced as the new CEO of Ben Ainslie Racing, the team founded by Britain's four-time Olympic gold medallist with the aim of retrieving the America's Cup and bringing it back to British waters for the first time since the inaugural competition was held off the Isle of Wight in 1851.
Whitmarsh, who will take a seat on the board and report to Ainslie, BAR's team principal, was recommended to the yachtsman by a number of high-profile figures within motorsport, among them Red Bull's Christian Horner and Adrian Newey. The latter is already committed to working for BAR as part of a consultancy agreement between the fledgling Portsmouth-based team and Red Bull Advanced Technologies.
Whitmarsh admitted the prospect of working with Formula One's pre-eminent designer again, after the pair spent nine years together at McLaren between 1997 and 2006, was a key factor behind his decision to join BAR, although he claimed he needed little persuading once he had sat down with Ainslie.
"Ben came to see me at my house a couple of weeks ago and it was an easy sell," he said. "There were no negotiations. Frankly, within minutes of talking to Ben I knew I wanted to do it. I rang him the next morning to accept."
Since that meeting, Whitmarsh has been out in Borneo, where his daughter, an anthropologist, is working on a project with orangutans.
It was the last trip in what he describes as a "life-changing" nine months since he walked out of the McLaren Technology Centre for the last time, having been ousted as team principal last January following a lengthy power struggle with Ron Dennis.
Whitmarsh declined to discuss his departure, or even the current goings-on at McLaren ("I'm still too close to it all") but said he did not regret his decision and would almost certainly never go back.
"It has been good for my soul," he said of his mid-life gap year. "I mean, you're the first journalist I have spoken to in 12 months. I've been travelling. I've been able to spend more time with my kids who are grown up now. My son is a music photographer so I've helped him set up a bit. I've been out to visit my daughter in Uganda and Rwanda and Borneo, and see what she is doing. I feel quite energised by it all. Formula One is a sport that can take over your life, it can consume you. And I think it got pretty close to doing that with me.
"But I know I'm a lucky, lucky man. I had an amazing 25 years and never have to work again if I don't want to. Whatever I do now should be because I want to do something fresh."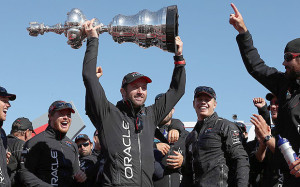 That opportunity has arrived, unexpectedly, in the shape of BAR, who will be competing for the 35th America's Cup in Bermuda in 2017.
Whitmarsh will begin his role next month, just a few weeks before the team move from their temporary offices in Whiteley to a new state-of-the-art facility in Camber Quay.
"That is what I have been brought in to help do. If I look back at my 25 years at McLaren, we developed from a business with fewer than 100 people to over 3000 people, a business that went from £19 million turnover to over £600  million.