Everton have signed midfielder Gareth Barry on a three-year contract.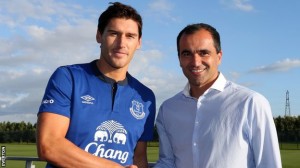 The 33-year-old spent last season at Goodison Park on loan from Manchester City, helping Roberto Martinez's side finish fifth in the Premier League.
Barry, whose contract with City expired at the end of June, is Martinez's first signing of the summer.
"I'm delighted now that everything is signed and I'm going to be spending the next few years at Everton," the midfielder said.
"When you are on loan, it is never the same as being a signed player. I was really settled last year – but now I am an official Everton player and it feels really good."