Romain Grosjean made it three out of four for Lotus at this week's pre-season test in Barcelona as he topped an eventful day marked by Fernando Alonso's unusual crash in the McLaren.
Half an hour before lunch, Alonso went off the circuit at the exit of Turn 3 and came to a stop on the run down to Turn 4. A lengthy delay followed and after being taken by ambulance to the medical centre a conscious Alonso was airlifted to hospital for precautionary checks. CT scans in the afternoon confirmed the Spaniard was uninjured, although he will be kept in hospital overnight.
Alonso completed just 19 laps before his accident and McLaren was not able to get the car back out on track in the afternoon when Jenson Button was scheduled to drive. It means McLaren finishes the second pre-season test with just 129 laps to show for its week in Barcelona and just one week of testing left to rectify its problems before the first race in Australia.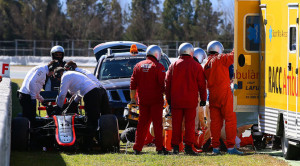 Alonso's accident was just one incident in an eventful final day at the Circuit de Catalunya, which saw four further red flags in the afternoon. First Nico Hulkenberg stopped on track under a cloud of smoke from his 2014 Force India. Carlos Sainz then spun off at Turn 4, snapping the Toro Rosso's front wing on impact with the wall. The accident was heavy enough for him to have to pay a brief but routine trip to the medical centre for checks. Valtteri Bottas stopped in the same spot a few moments after the green flags came out and with ten minutes to go there was another red flag when Felipe Nasr pulled up with a problem with his Sauber.
Grosjean's headline time of 1:24.067 was set on the super-soft tyre, and marked a day with 111 laps and a race simulation for Lotus. Mercedes added to its sizeable winter mileage count with 131 laps for Nico Rosberg as it continues to look for a step forward in reliability this season. In the final hour Rosberg put in an impressive 1:24.321, set on the medium tyre and just 0.254s off Grosjean's time. The lap was roughly a second faster than Lewis Hamilton's pole position time on medium tyres at last year's Spanish Grand Prix, but unlike Hamilton's was set on used tyres and most likely with a heavier fuel load.
After focusing on pit stops and race starts on Saturday, Williams spent the day focused on longer runs. Valtteri Bottas started a race simulation after lunch but it was interrupted by a visit to the Williams garage and Hulkenberg's stoppage. He then continued the long run before stopping at Turn 4 himself, though it did not end his day. It was obvious Williams was not chasing times and his race simulation and 129 laps was an impressive way to round off the second test.
Sebastian Vettel's second day this week in the Ferrari garnered a solid 76-lap haul, though his day was punctuated by several long spells in the garage. Ferrari still has plenty of reasons to be optimistic after eight solid days of testing so far. Felipe Nasr's day was blighted by an early pit-lane stoppage which kept him in the garage for an extended period before lunch, though he did recover to record 73 laps. Sainz's spin ended his day after 88 laps, while Hulkenberg finished his first F1 run of the year with 36 laps. Force India hopes to arrive at the third test with this season's challenger but will have gained valuable 2015 tyre data from this week's test.
Day 4 Times:
1. Romain Grosjean Lotus 1:24.067 111 laps
2. Nico Rosberg Mercedes 1:24.321 131 laps
3. Daniil Kvyat Red Bull 1:24.941 104 laps
4. Felipe Nasr Sauber 1:24.956 73 laps
5. Valtteri Bottas Williams 1:25.345 129 laps
6. Carlos Sainz Toro Rosso 1:25.605 88 laps
7. Sebastian Vettel Ferrari 1:26.312 76 laps
8. Nico Hulkenberg Force India 1:26.591 36 laps
9. Fernando Alonso McLaren 1:27.956 20 laps