The third day of pre-season testing in Jerez saw Sauber's Felipe Nasr at the top of the timesheets, while McLaren made limited progress with its new Honda-powered MP4-30 and Red Bull were delayed by a lengthily Renault engine change.
Of more significance to Sauber will be the 108 laps completed by Nasr as his lap time was still 0.5s shy of the benchmark set by Ferrari's Sebastian Vettel on Monday. However, the quick lap will go some way to boosting his confidence after spinning into the gravel early in the session. The track was damp at the start of the morning but slowly dried under overcast skies to allow slick running for the majority of the day. Nasr's nearest competitor was Kimi Raikkonen, who got his first taste of the Ferrari SF15-T. After two days of improvement with Vettel at the wheel, the Ferrari lap count increased again to 92 despite a slow start.
With the Mercedes W06's Monday water leak fixed, Nico Rosberg added another 151 to his count on Tuesday to bring his combined total to 308 over two days in the car this week. The day was not quite faultless as the engine shutdown during one of his runs around lunch, but it did not keep the car in the pits for long. For what it's worth, he set the third fastest time, 0.232s off Nasr's time.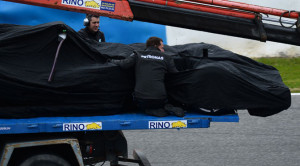 McLaren had a productive morning, with Fernando Alonso matching the lap count of the previous two days in the first two hours, eventually finishing the day on 31. However, a loss of cooling water pressure that required a lengthily investigation of the Honda power unit and ended the day early.
Following two unproductive days with engine issues and a broken wing on Monday, Red Bull had another frustrating session when, after five laps, it had to change the Renault power unit in the RB11. The car made it back on track to notch up 48 laps in total, and although it is an improvement on last year, the team will be hoping for plenty of problem-free laps with Daniil Kvyat at the wheel on Wednesday.
Felipe Massa got his first taste of F1 2015 with Williams as the team completed another solid day with 71 laps. Carlos Sainz had a very productive day in the Renault-powered Toro Rosso with 136 laps, the second most after Rosberg. Pastor Maldonado was back in the Lotus and notched up 96 laps before stopping on track on the final run of the day.
Day Three Times:
1. Felipe Nasr Sauber 1:21.545 108 laps 
2. Kimi Raikkonen Ferrari 1:21.750 92 laps 
3. Nico Rosberg Mercedes 1:21.982 151 laps 
4. Felipe Massa Williams 1:22.276 71 laps 
5. Pastor Maldonado Lotus 1:22.713 96 laps
6. Carlos Sainz Jr Toro Rosso 1:23.187 136 laps 
7. Daniel Ricciardo Red Bull 1:23.901 48 laps 
8. Fernando Alonso McLaren 1:35.553 32 laps