Williams have become the first team to reveal pictures of a 2015 Formula 1 car and have set a target of moving further up the grid this season.
They were the most-improved team in F1 last year, taking third in the championship, up from ninth in 2013.
Their target is to close the gap on world champions Mercedes and score more than the nine podiums achieved in 2014.
The team retained their driver line-up of rising Finnish star Valtteri Bottas and Brazilian veteran Felipe Massa.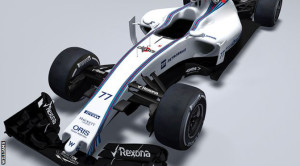 Williams also continue with the Mercedes turbo hybrid engine, which was the class of the field in 2014.
Team owner Sir Frank Williams said: "The team had a fantastic season last year. We are aiming to replicate this development over the winter and to start the 2015 season in a strong position.
"Everybody has worked tirelessly to continue that climb up the grid.
"After a very strong first year with Mercedes we are looking to further develop the relationship as we look for more podiums in 2015.
"I feel this year will be equally as exciting as the last and look forward to seeing the car on the grid at the first race."
Chief technical officer Pat Symonds said: "The difficulty of moving the team up the rankings should never be underestimated" and said Williams had focused on "consolidation and incremental improvement".
The new FW37 car is visually similar to its predecessor, but this hides significant changes under the skin.
The most obvious re-design is around the nose section.
This is in response to revised rules that have outlawed on safety grounds the 'anteater' noses that proliferated in 2014. These will force most of the teams to revisit their designs.
The new rules make it harder to extract aerodynamic performance from the front of the car and the design teams will have focused on retrieving as much as possible.
The new Williams still has a tip but it is much smaller than last year and protrudes from a square section, the minimum width of which is defined by the rules.