Nasser Al-Attiyah completed a dominant victory in the 2015 Dakar Rally car race after safely coming through the final day's stage to make the finish line in Buenos Aires.
Robby Gordon won the shortened final stage of the race in 13 minutes 16 seconds ahead of Leeroy Poulter, but Al-Attiyah's sixth spot – 39 seconds back – was easily enough to give him a second Dakar victory following his 2011 triumph.
The Qatari driver was one of the hot favourites ahead of the event, and justified that status by winning the opening stage – only to be stripped of that honour by being handed a two-minute penalty for speeding on a link section. He quickly shrugged it off, winning the second stage of the race in fine style by almost ten minutes to take charge of the race, and he never looked back thereafter.
"I'm delighted I've won the Dakar," he said afterwards.
"It's fantastic because we've dominated the race from the beginning and were able to control the rally throughout. I've got lots of people to thank for this.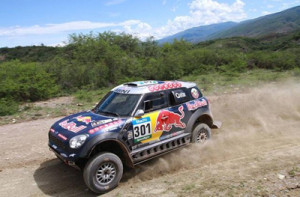 "I came to the Dakar in top-notch form, both physically and mentally. Then, we managed to do our job day after day. It's fantastic. Now I want to win even more."
His arch-rival for the title, Nani Roma, suffered a catastrophic breakdown on the second stage that cost him over two hours and took him out of the equation, and South Africa's Giniel de Villiers eventually finished second – some 35 minutes 34 seconds off Al-Attiyah's winning aggregate time of 40 hours 32 minutes and 25 seconds.
"Everyone wants to finish on the top step, but we've got reason to be proud of what we've done because we took the fight to Nasser for quite a while," said De Villiers.
"He did the best race, well played. It's a bit frustrating, but that's racing for you. It takes several years to develop a car that can win the Dakar. After four years of existence, the Toyota Hilux has made leaps and bounds, a lot of work's gone into it."
In third place, almost an hour further back, was Poland's Krzysztof Holowczyz, finishing on the podium at last in his 10th Dakar.
"I decided to drive fast but safely, and this strategy works at the rally," he said.
" I stayed calm every day, whether I was fourth or fifth… and I ended up on the podium. I think I found my pace.
"Of course, we look at the top of the podium, but I'm delighted with my third place. I've won races and events in other disciplines, but standing on the podium of the Dakar is something new because this race is really special.
"When you finish this rally, you're so tired you never want to come back, but two months later you're ready to jump back in."
Final standings
1. Nasser Al-Attiyah/Matthieu Baumel (QAT/FRA/Mini) 40 h 32:25. (penalties: 2:00.)
2. Giniel De Villiers/Dirk Von Zitzewitz (RSA/GER/Toyota) à 35:34.
3. Krzysztof Holowczyc/Xavier Panseri (POL/FRA/Mini) 1 h 32:01.
4. Erik Van Loon/Wouter Rosegaar (NED/NED/Mini) 3 h 01:52. (penalties: 40:00.)
5. Vladimir Vasilyev/Konstantin Zhiltsov (RUS/RUS/Mini) 3 h 12:41.
6. Christian Lavieille/Pascal Maimon (FRA/FRA/Toyota) 3 h 15:58.
7. Bernhard Ten Brinke/Tom Colsoul (NED/BEL/Toyota) 3 h 42:02.
8. Carlos Sousa/Paulo Fiuza (POR/POR/Mitsubishi) 3 h 44:59. (penalties: 40:00.)
9. Aidyn Rakhimbayev/Anton Nikolaev (KAZ/RUS/Mini) 4 h 08:44. (penalties: 30.)
10. Ronan Chabot/Gilles Pillot (FRA/FRA/Smg) 4 h 42:36.