MLS side Los Angeles Galaxy have confirmed Liverpool captain Steven Gerrard will join the club in July.
In an interview with the LA Times, Galaxy manager Bruce Arena revealed the news, which was later confirmed via the club's official website.
"Steven Gerrard arrives in July and by then we will certainly have a plan available," Arena, who has led the club to three Major League Soccer titles in four years, told the newspaper.
"He's a player of quality. I'm not concerned about how he's going to fit in with our team.
"We have a club now with a proven history of success. All those things go hand in hand in making LA Galaxy a very attractive team for players such as Steven Gerrard."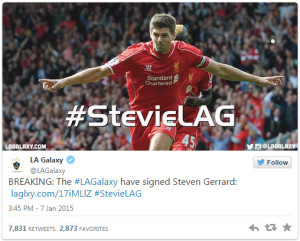 Galaxy president Chris Klein described the Reds captain as "the perfect fit".
"We just started thinking in the universe of players that are out there, we want to make a decision on what signifies a Galaxy-designated player.
"When we look at that, Steven Gerrard is the perfect fit with what he brings to us on the field and the character that he has off it."