Ferrari's Kimi Raikkonen suffered only bruising to his legs in a 150mph crash at the British Grand Prix.
But the team do not know whether he will be fit to drive as planned in this week's test at Silverstone.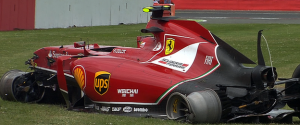 The Finn sustained an impact of 47G in the crash – 47 times the force of gravity – when he lost control of his car as he rejoined the track after running wide on the first lap.
"Kimi is OK. There is no major issue," said team boss Marco Mattiacci.
"We checked several times and we will take a decision about the test and what to do."
Raikkonen, the 2007 world champion, was taken to the medical centre after hobbling away from his car with help from marshals after the crash, which stopped the race temporarily.